Sam's Chill Playlist: 10 Songs to Take the Edge Off Studying
Hang on for a minute...we're trying to find some more stories you might like.
Many students can relate to staying up all night the day before an essay or big project is due. There are many ways to cope with this recurring challenge. Most students choose to grind out the task, consumed by stress and anxiety, but why not take a different approach? I firmly believe that being angry and fed up with the assignment leads to sloppy work and a rushed "finished" copy. Instead, choosing to be relaxed and take your sweet time can really pay off. Here are 10 songs of different genres to help take the edge off during a late night.
Cashmere Baby- Black Pool
Black Pool is an alternative/indie band that is on the rise. From Long Beach, CA, the group is, "just tryna groove", according to their Spotify bio. Their most popular song, Cashmere Baby, is a testament to the band's rising success.
Lenny – Stevie Ray Vaughan
Lenny is possibly the most mellow song on this playlist. The relaxing, euphoric, electric blues guitar melody rings back and forth like a musical conversation. In my opinion, Lenny is without a doubt the best song of its time.
Touch of Grey – Grateful Dead
Touch of Grey is a fantastic classic rock song from 1987 that was nominated for the MTV Video Music Award for Best Visual Effects and the MTV Video Music Award for Best Stage Performance.
Keep Ya Head Up – Tupac
This controversial song, released in 1993, addresses the treatment of women, and the domination of men over women, something Tupac witnessed firsthand in his own life. The funky beat accompanied by the truth of Tupac's lyrics combine to make a truly impressive and honest song.
Redbone – Childish Gambino
Probably the most intriguing song on this playlist is Redbone. I believe Redbone deserves all the positive attention it still gets one year after release in 2016. Redbone is melodic, and every lyric is spoken with a unique finesse unmatched by any other song on this playlist, making Redbone a truly unique piece.
Little Wing – Jimi Hendrix
This nostalgic classic rock song will chill the nerves of anyone who listens to it. With its psychedelic guitar riff and the soothing voice of Jimi himself, Little Wing is a timeless classic.
Feeling Alright – Rebelution
Released in 2007, this reggae masterpiece will get any listener to vibe to its upbeat, happy melody while the lyrics encourage us to ignore all the troubles in our world and just feel alright.
Count Me In – Rebelution
Count Me In stands out from the rest of Rebelution's music, with its reggae rock beat keeping the listener happy and in a better state of mind, it is an easy song to get lost in.
YAH. – Kendrick Lamar (Mildly Explicit)
Coming from Kendrick's album DAMN, YAH is substantially underrated compared to other songs on the critically acclaimed album. YAH has a much slower pace than the rest of the DAMN album, but the lyrical intensity and flow is still there, making it easily one of the best songs on the album.
Headlights – Eminem (Mildly Explicit)
Eminem is highly praised for his lyrical genius, which is made evident in his song Headlights. More of an apology letter than a song, Headlights is by far Eminem's most emotional song. It tells about his previous relationship with his mom and compares it to his current one. Headlights is lyrical art and one of Eminem's deepest songs.
There are hundreds of other songs that deserve to be on this list, but this initial playlist was designed to give a sampling of several different genres and mellow songs to listen to during a late night or just when you're trying to chill. Hopefully you enjoy the different tracks included on this playlist — if you do, or if you have suggestions for other songs that would have worked well here, let us know in the comments below.
Creative Commons image by Jonathan Koifman.

About the Writer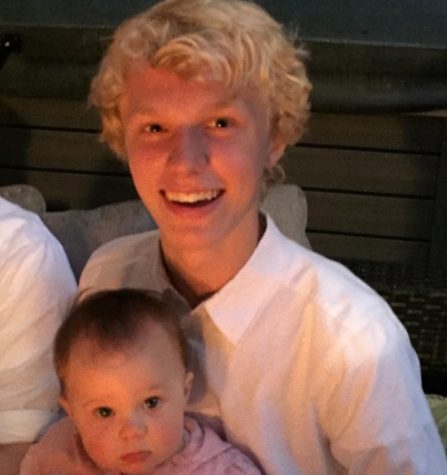 Sam Hull, Staff Photographer
Sam Hull is a senior at La Salle who enjoys playing soccer and skateboarding. On the weekends Sam spends most of his time working as a dishwasher at Papa...