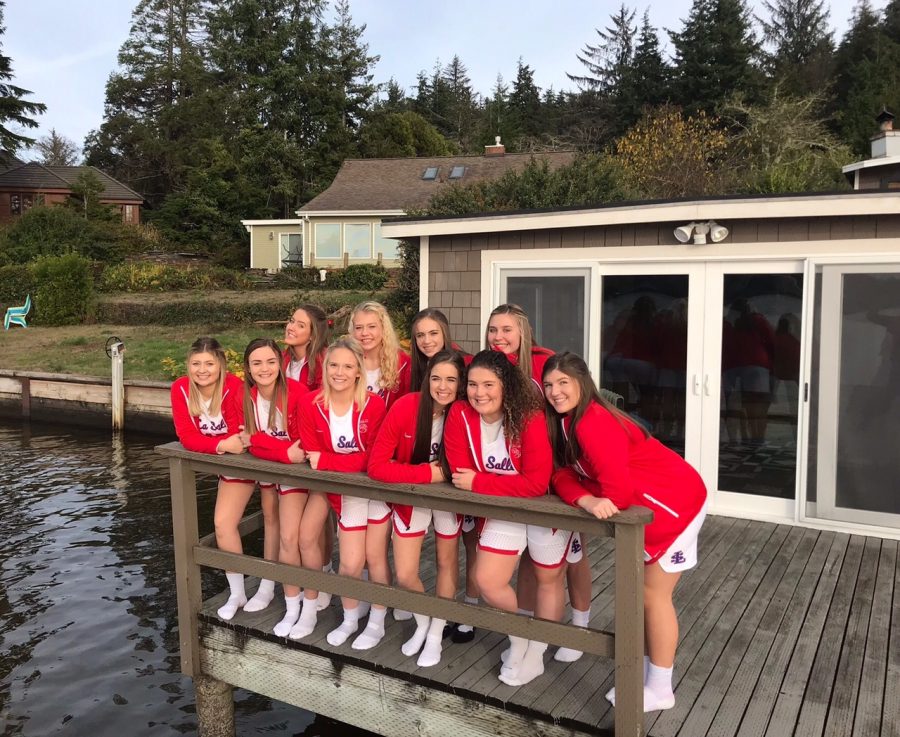 After taking home the state championship two of the last three years, the varsity girls basketball team is looking forward to this upcoming season. Starting tonight at the Jamboree at 6pm here at La Salle, the team is eager to get back on the court to shoot for great games this season and hopefully another state championship.
Head coach Kelli Wedin has the philosophy of preparing hard everyday in practice, being purposeful in all their work, and creating good habits on the court. She says, "[W]ith this preparedness and work ethic, I believe our girls and coaches will be as confident as possible once our season begins."
With the season just getting underway, Wedin is most looking forward to "seeing the growth from start to finish of this team," as well as making memories and having fun along the way.
Junior Jessie Loboy anticipates the trip to Phoenix, AZ the team takes right before Christmas, where they compete in the Tournament of Champions. She is up for the challenge to play "against the top teams in the country." Along with looking forward to the trip, Loboy states that the team needs to be "mentally focused and physically prepared" to have a terrific season.
Although the team has many returning players, Wedin admits that they have "faced some adversity" with the loss of Aleah Goodman, who graduated last year and is now playing for Oregon State University. The team has also lost three other seniors and two returning starters who transferred to other schools; however, Wedin takes great pride in the saying that "Tradition [and] culture never graduates."
Players to look out for this season are the two senior captains: Taycee Wedin, the 2016-17 NWOC Player of the Year, and senior Colby Jansen, commended by Coach Wedin for "really stepp[ing] up in the post position." Taycee, who is Coach Wedin's daughter, is coming off of an ACL injury but is working hard to get back to 100%. Coach Wedin reassures that "as soon as we are all healthy, this will be a very special team that is willing to do whatever it takes to make this the best year possible."
Altogether, the team consists of five seniors, two juniors, two sophomores, and two freshmen.
Jansen believes the team's dynamic is that "we're all really unique, both personality and player wise." This leads to all the athletes "bringing something different to the table" when at practice or competing in games.  
Jansen feels as if the team is significantly different now when compared to last year, which she calls a blessing because the team "get[s] the chance to prove [them]selves and build a new legacy within the program."
Coach Wedin expresses that the "culture of our program [is] to seek out the biggest accomplishments possible every year." The team will achieve their goals when they all "stand united and fight together as one." Wedin is thrilled to see what the team accomplishes this season.