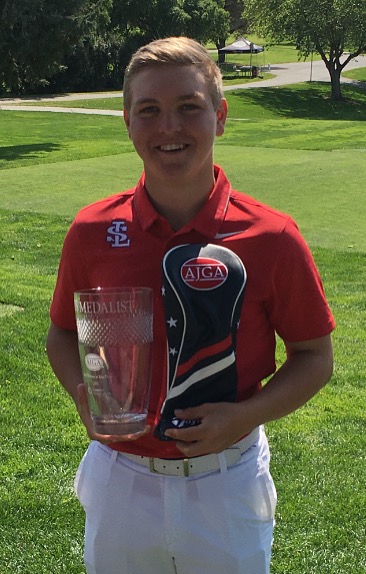 Between playing golf every day, maintaining his impressive grades, and making time to hang out with friends, junior Matthew Werner, one of the top high school golfers in the state, has a very busy schedule. In addition to his regular classes, Matt is currently taking AP U.S. History, Honors Spanish 3 and Honors Algebra 2, all while spending two or more hours per day at the driving range or on the golf course.
This is his third year on the boys varsity golf team, a sport that he is passionate about and plays year-round.

As far as classes go, his favorite is Chemistry because "We do fun and exciting labs, projects and experiments," he said. "Also, the concepts that are taught are very simple for me to learn so it makes it that much more fun."
When Matt is not at school, he can be found at many of the local golf courses or participating in tournaments. He has always had an interest of playing golf since he was a little kid. However, he "started taking it serious in the seventh grade."
Since he doesn't play on the school team year round, he often enters in national tournaments during his off-season. He recently had a tournament in California and, impressively, took first place for his age group.
During his free time, when he isn't playing golf or doing school work, he loves spending time in the outdoors by going on hikes and camping trips.
Because Matt misses a lot of school during the golf season, he has learned many time management skills. When asked about how he manages golf and school work to keep his excellent GPA, he said, "It's super tough, especially since I miss at least one whole day of school a week for golf." As a result, he has learned to stay on top of school work and to stay in contact with his teachers so he doesn't get too far behind.
With only seven weeks until finals, his plans for maintaining his grades are to work hard and study for all his upcoming tests and quizzes. He wants to end the school year on a good note with outstanding grades.
For Matt's senior year, he plans on taking as many difficult classes as possible that challenge him for his future career path in business. Right now, Matt is looking at two colleges out of state, Gonzaga and Seattle University, which are both recruiting him for golf.
While attending college, he wants to major in sports marketing or business. Besides wanting to be a professional golfer, Matt's long term goals are to become an entrepreneur and hopefully start a successful company later on down the road.